Client: Private Client
Role: Project Management, Contractors Administrator, Quantity Surveyor and CDM Co-ordinator
Value: £16 million
Programme: September 2013 to February 2015
Procurement: Negotiated Design & Build
Location: Torquay, South England
Project Description
Abbey Sands is a new build development for a private developer to provide a mix of retail, residential and holiday let accommodation.
The project was completed in February 2015.
The project provides 4 restaurant units, 14 high quality residential apartments for sale and 13 luxury holiday apartments for let plus extensive improvements to the public realm.
The development occupies a prominent site on the sea front and replaced a derelict hotel.
Our Role / Scope
Our role in the project was to provide Project Management, Quantity Surveying and CDM Co-ordinator services from the initial project feasibility through to Financial Close.
Our involvement commenced in 2011, with works starting on site in September 2013.
The Developer required funding to be provided by the Building Contractor and this led to a negotiated procurement route. This required an early appointment of the Contractor in advance of detailed design and a Design & Build Contract was used to protect the Client from the risks of design development.
The site required extensive civil engineering input to support the rear cliff face.
Close liaison was necessary with the local authority to enable the extensive works to the sea front to be completed with minimum impact upon local business and the public.
Technical Capacity
The team comprise of the following:
Project Director;
Lead Quantity Surveyor;
Lead Project Manager;
CDM Co-ordinator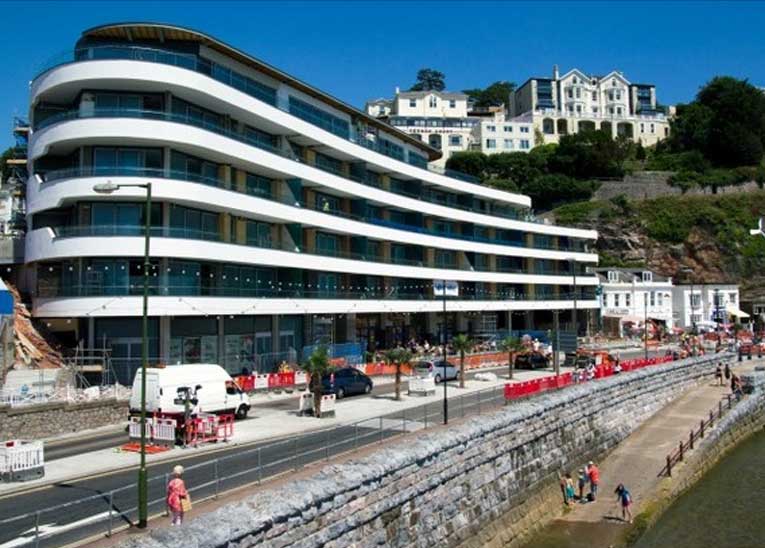 Benefits To Client
Selected procurement route ensured Doig+Smith could control the project at every stage;
Commercial expertise allowed a feasible project to be prepared;
Project team also working on numerous projects with the same Client;
Comprehensive understanding of procurement allowed the Clients interests to be protected; and
Multi-discipline commission allowed streamlined and consistent input from Doig+Smith's staff.