Client: Aberdeen International Airport
Role: Full Quantity Surveying Services
Value: £20 million
Programme: 2012 - 2020
Procurement: NEC3 Option B
Location: Aberdeen, North East Scotland
Project Description
Doig+Smith are part of the team to deliver Aberdeen International Airports Terminal Transformation project. The project is regarded as the most significant upgrade to the airport since 1977, when the existing terminal was first commissioned, and involves the single largest investment by Aberdeen International Airport. The project will involve reconfiguring the existing lounge area and increasing the size of the terminal building by 50% with a new 2-storey extension to allow delivery of a new baggage reclaim hall, security search, 2 CIP lounges, walkthrough WDF and new retail sites. The project is split into 3 phases, with phase 1 commenced on March 16 and due to be complete in July 2017. The next two phases are due to be on site from 2018 and completed in 2020.
Our Role / Scope
On this project we are undertaking the following services:
Cost Planning
Benchmarking
Value Management
Value Engineering
Risk Management
Whole Life Costing
Procurement
NEC3 Procurement & Contractual Advice
Post Contract Quantity Surveying Services
Capital Planning Input
Technical Capacity
The team comprise of the following:
Project Director;
Senior Quantity Surveyor; and
Assistant Quantity Surveyor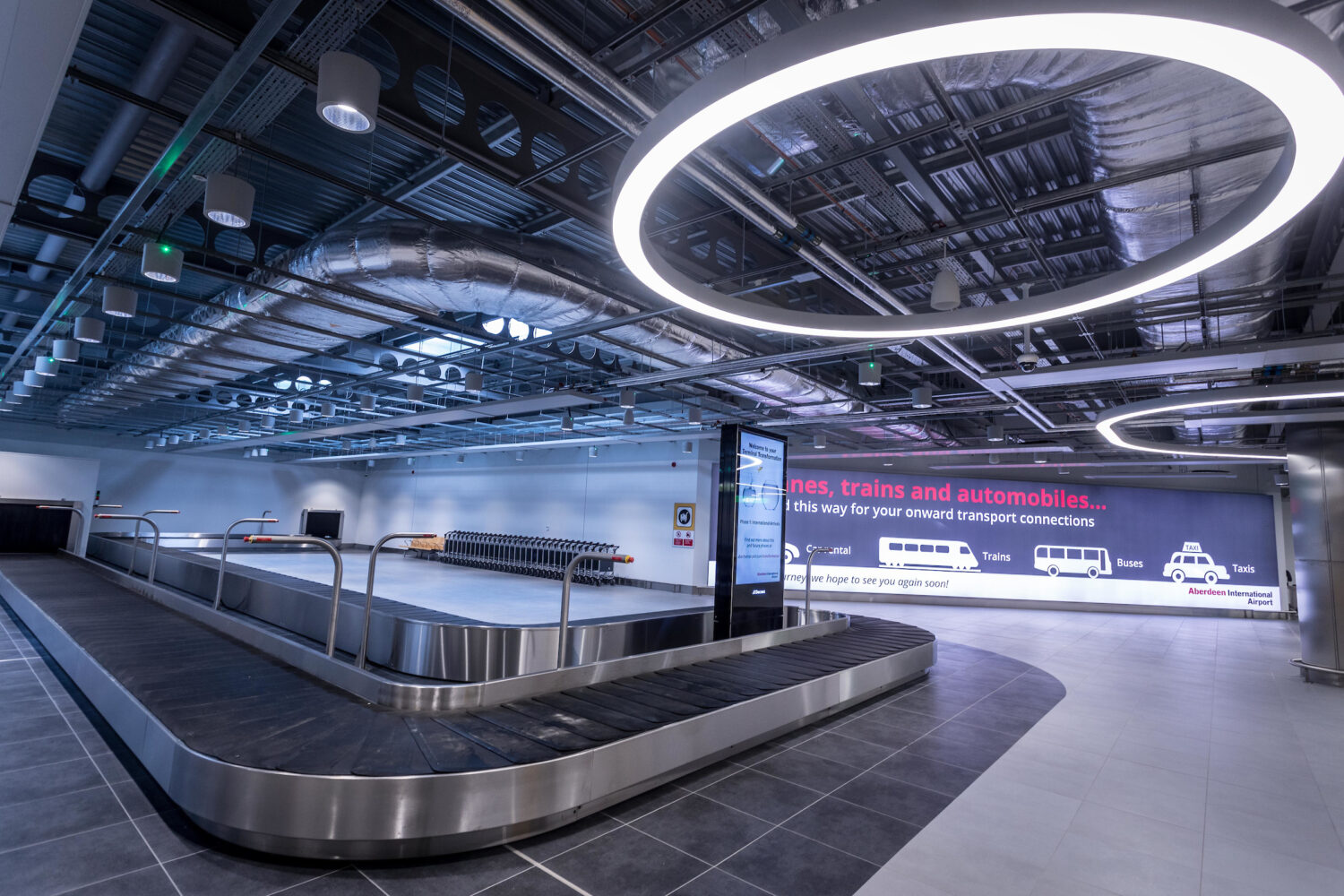 Benefits To Client
Value Engineering: The airports new owners wanted to move away from the traditional airport specification and asked us to value engineer the costs to produce a more cost effective product, which we did by omitting ceilings, paint walls in lieu of laminate, reviewing cladding products etc. We then carried out extensive benchmarking to show value for money against airport and non airport projects.
Project Specific Costs: As this project is within an existing, live airport were numerous project specific factors that had to be considered. It was important that the cost plan identified and accurately reflected the project specific requirements to allow us to manage and minimise their impact. These items can have a significant implication on project cost and programme when working within live environments. These included maintaining fire escapes and maintaining operation of the baggage reclaim facilities - this required setting up temporary baggage reclaim facilities outwith the terminal. We ensured that these items were captured within the cost plan and therefore managed their impact on the project and budget.
Two Stage Tendering: Due to the complications regarding maintaining operation of the airport facilities we recommended a two stage tender to allow contractor input into phasing and methodology. We worked closely with the Contractor and Design Team to achieve the most cost effective phasing solution.
NEC3 Processes: We have ensured an NEC3 compliant change control system is in place to allow the team to utilise a EWN and CEN system that complies with the strict process required by the contract. This will enable us to manage costs more effectively during the construction phase and allow us to report accurately to client.
// Removed Expetise tags - KG 13/09/2016 ?>