Client: North Lanarkshire Council
Role: Project Management, Quantity Surveying and FM Services
Value: £8 million
Programme: November 2013 to November 2016
Procurement: Hub DBFM
Location: Cumbernauld, Scotland
Project Description
Cumbernauld Community Enterprise Centre is a new build development to replace the existing Muirfield Community Centre in the centre of Cumbernauld. The project has been announced as a finalist for Development of the Year (public) at the Scottish Property Awards 2017.
The project is a tandem build on the existing Muirfield Community Centre site and presents challenges in relation to phasing the works to allow the centre to remain operational and accommodate as many of the existing user groups as possible.
The works comprise the phased demolition and decanting (decant undertaken by user groups and Culture NL and co-ordinated by Culture NL) of the existing Muirfield Community Centre to enable the facility to remain operational throughout the currency of the Works. The project comprises the construction of a new mixed use development containing community facilities and speculative office provision for Social Enterprise and Small Business sector tenancies. The project also includes the construction of a new access road to serve the development which is being constructed to the rear of the existing Police station and external works including the formation of a new car park, remodelling Police Scotland fleet car park, public realm area at main entrance and creation of parkland including children's play area and a Multi Use Games Area (MUGA).
Our Role / Scope
Our role in the project is to provide Project Management, Quantity Surveying and FM services from Strategic Support Partnering Service stage through to Financial Close and subsequent Cost Management services through to completion on site.
The project was successfully delivered through the hub process and gateways to achieve an NPR and subsequently Financial Close following a combined Stage 1/2 and works are now on site with an estimated completion date of November 2016.
An all-encompassing role incorporating all pertinent issues such as assisting NLC in developing the project brief at SSPS stage, Value Engineering and Risk Management.
Provision of principle interface between North Lanarkshire Council, hub South West and the Principle Contractor.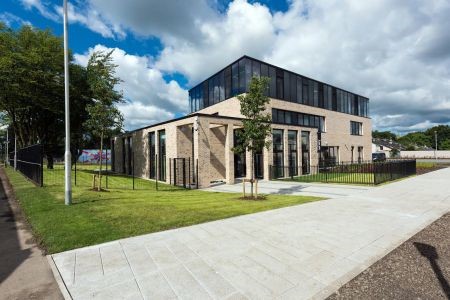 Technical Capacity
The team comprise of the following:
Lead Quantity Surveyor;
Lead Project Manager; and
FM Consultant
Benefits To Client
All of Doig + Smith's key team members are experienced in PFI/NPD or hub forms of procurement;
Comprehensive understanding of hub procurement processes.
Multi-discipline commission utilising streamlined and consistent processes.
// Removed Expetise tags - KG 13/09/2016 ?>