Client: Gatwick Airport
Role: Quantity Surveying, Contract Administration and Building Surveying
Value: £46 million
Programme: October 2005 to November 2011
Procurement: Competitive tendering for most packages using NEC 2 Options A and C, and NEC 3 Option C
Location: Gatwick Airport, West Sussex
Project Description
Gatwick's Inter Terminal Transit System (ITTS) was opened in 1987 to coincide with the opening of the new North Terminal. The system comprised two 3 car driverless trains that ran on a 1.2km long elevated guideway moving passengers and staff between the North and South Terminals.
The system was designed to run for a million miles but by 2005 it had clocked up more than 2 million miles. This project undertook to install a new automated people mover (APM) system comprising two 3 car trains. The project also replaced the original electrical, signalling, security and communications infrastructure along with elements of the power rail and guide rail.
In addition to the APM package of works, the project also undertook a full refurbishment of the South Terminal Station, construction of a new maintenance facility at the South Terminal, replacement of 650 bridge bearings along the full length of the elevated guideway, new passenger information and entertainment systems in the trains and stations, and the provision of a temporary bus services between the terminal while the APM works were in progress. This included the provision of temporary bus stops, bus turning circles, walking routes and signage.
Our Role / Scope
We were appointed at an early stage of the project while Gatwick were still developing the project brief. Our role was to provide full quantity surveying services for this project including procurement and contract administration. Our Building Surveying team were also commissioned to undertake a dilapidation survey of the existing stations including the original maintenance facility to assist and advise Gatwick of the scope of works required to relife these buildings.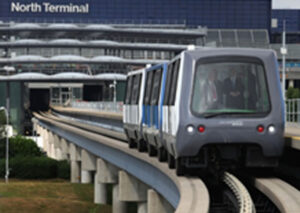 Technical Capacity
The team comprise of the following:
Project Associate
Senior Quantity Surveyor
Assistant Quantity Surveyor
Building Surveyor
Benefits To Client
Extensive procurement and NEC contract experience
Extensive cost management experience at airports enabled us to assist Gatwick appraise options for various elements of the project during the feasibility stage, thereby assisting with the development of the project brief and the overall project budget.
Implemented a commercial strategy for the project that saved Gatwick approximately £2m.
Development of a phasing strategy for the works that resulted in the new APM system being delivered 3 months earlier than originally planned.
// Removed Expetise tags - KG 13/09/2016 ?>