Client: Miller Developments
Role: Full Quantity Surveying Services, Employers Agent and Principal Designer
Value: £60m Infrastructure Element; £250m Development to date
Programme: Commenced August 2012
Procurement: NEC3
Location: Warrington, England
Project Description
Redevelopment of a former airforce base into a mixed use site for industrial, office, leisure and housing development. Masterplanning of the major Infrastructure works including forming new dual carriageways and spine roads with associated roundabouts, junctions, footways, cycle paths, road drainage, street lighting, soft landscaping and detention basin works. Phasing of the Infrastructure works across a 6 year period into 14 phases and 7 overall development zones. Recent new build developments include new warehouse facilities for Travis Perkins (£19.8m), The Hut Group (£24m) and a factory facility for Plastic Omnium (£16.5m). Currently a 350,000ft2 speculative build warehouse is being developed (£13.7m). Current Infrastructure works are being implemented for 3,500 new houses and a new build primary school.
Our Role / Scope
Full Quantity Surveying service including the preparation of a Masterplan Cost Plan for the development including updating as necessary to reflect changes in the design and phasing. Full cost planning for all new developments.
Preparation of tender documentation for the procurement of phased infrastructure works and buildings. Negotiation and agreement of costs with preferred supplier for all works. Employers Agent and Principal Designer services for all new building developments.
Post contract services including monthly valuations and Cost Reports and agreement of tenant and landlord variations.
Technical Capacity
The team comprise of the following:
2 Directors;
Associate; and
Quantity Surveyor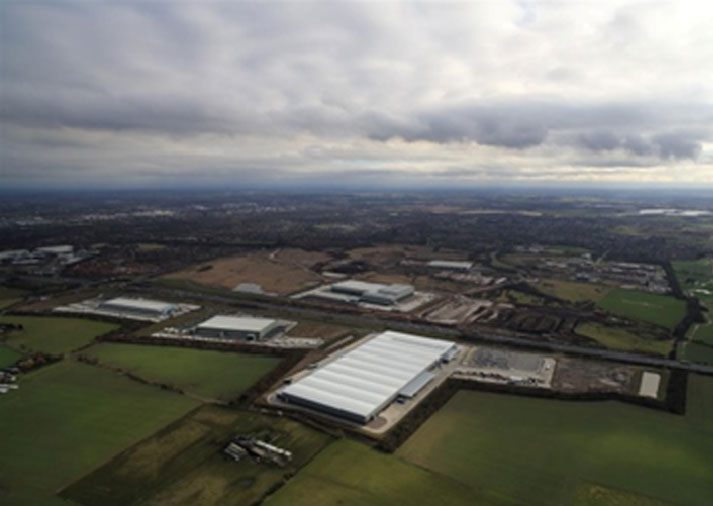 Benefits To Client
Close liaison with the Project Design Team at an early stage in the process allowed the creation of a robust Masterplan Cost Plan as the basis upon which to control costs for each phase of the infrastructure works.
Close liaison with the tenants for all new build developments to fully understand their requirements ensuring robust and accurate cost planning.
Procurement of multiple phases of Infrastructure Works in line with the Masterplan Cost Plan budget.
Procurement of 4 new build major developments all within budget.
Flexibility to accommodate changes in phasing of the development.
Accurate reporting of costs post contract to include a number of significant variations including road widening works and major tenant variations through rigorous application of our change management process.
Close liaison with Fund Managers to ensure contract documents and month end reporting accurately reflects their requirements.
Early engagement of the contractor for the complex Plastic Omnium building to ensure optimum design solutions were implemented which allowed more robust cost planning in the early stages ensuring the project remained within budget.
// Removed Expetise tags - KG 13/09/2016 ?>