On Friday 30th of September staff in the Glasgow office came together with cakes, treats and donations to raise money for the company nominated charity – Ronald McDonald House.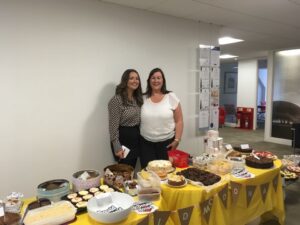 Emily Hughes, one of our graduates, orchestrated the full day – arranging bakers, fliers etc (even baking into th
e late hours of the night herself!) Staff contributed a great variety of baked goods to sell to local businesses and the delicious spread raised a total of £300!
Staff were so generous that we had enough at the end of the sale to take the remaining cakes and treats to Ronald McDonald House for the families using facilities at that time.
The House were delighted with the results and thanked the Doig+Smith staff for all their hard work and effort!