We are delighted to announce that Doig+Smith has been re-accredited with Investors in People Platinum and Investors in Young People Gold Awards.
This double achievement is fantastic news for the business, and endorses our commitment to leading, managing, supporting and developing our most important asset – our people.
A benchmark score of 756 places us in in the top 10 companies assessed within the Architectural and Engineering activities sector, and the top 25% of all UK organisations accredited to IIP in the 50-250 employee range.
Doig+Smith was praised by assessors for its excellent focus on learning and development, and were particularly impressed by the professionalism, courtesy and passion displayed by staff.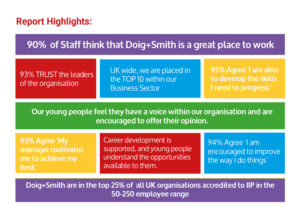 The Investors in Young People accreditation highlights Doig+Smith as an 'employer of choice' for the younger generation, with pathways and practices in place that ensure positive outcomes for its young people.
Assessors concluded that there is a high level of mentoring, training, development and ongoing support at Doig+Smith, and that its young people feel they have a voice within the organisation and are actively encouraged to offer their opinions.
Gordon McLintock, Director of Doig+Smith is delighted with the accreditation news, "We are so pleased to have been awarded Platinum and Gold awards from Investors in People. These awards are highly prestigious and send a strong message to the marketplace that we are attracting and retaining the highest quality of staff due to our commitment to them. I was especially encouraged to see the report cite that '90% of employees consider Doig+Smith a great place to work'. It is highly reassuring to know that our staff are content at work and proves that our investment is paying off."
To view the other awards Doig+Smith has received, visit our awards page.