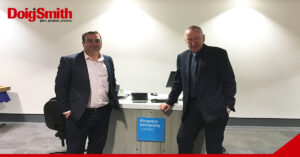 Kingston University's Surveying Masters Students Conference took place last week, and Doig+Smith Associate Greg Austin was in attendance as a guest panellist.
The annual conference provides a platform for the University's MSc Quantity Surveying & Building Surveying students to present their research and receive constructive feedback on their work and presentations from the expert panel.
As a Kingston graduate, Greg was especially pleased to be part of the event. He tells us "I enjoyed my studies at Kingston University so it was a privilege to be invited back to be part of a panel and see the future of the surveying profession at Kingston University present their research on their dissertation subjects."
Greg is pictured here with Kingston lecturer David White.