Client: Clearbell Capital LLP
Role: Project Management, Quantity Surveying & CDMC
Value: £25 million
Programme: June 2013 to March 2015
Procurement: 2 Stage Tender / Design & Build Contract
Location: Glasgow, Central Scotland
Project Description
The works involved the demolition of the existing brick built section of the Odeon Cinema on the corner of West Regent Street and Renfield Street and the new build construction of a 12 storey Grade A office block.
The building comprises 10 floors of office space totalling 135,000sqft and 3 retail units totalling 9,000sqft on the ground floor, double height reception area along with 40 car parking spaces and 56 cycle parking racks in the basement area and communal shower facilities at mezzanine level.
The site was located in the city centre of Glasgow making deliveries to the site and storage of materials difficult. Allowances were made by the contractor for off-site accommodation and material storage areas. Additional banksmen were used to control the flow of traffic around the site, along with specified times for delivery.
The development was to achieve the minimum of a BREEAM rating of 'Very Good'.
The development included Section 76 public realm works to upgrade the existing footpaths around the building.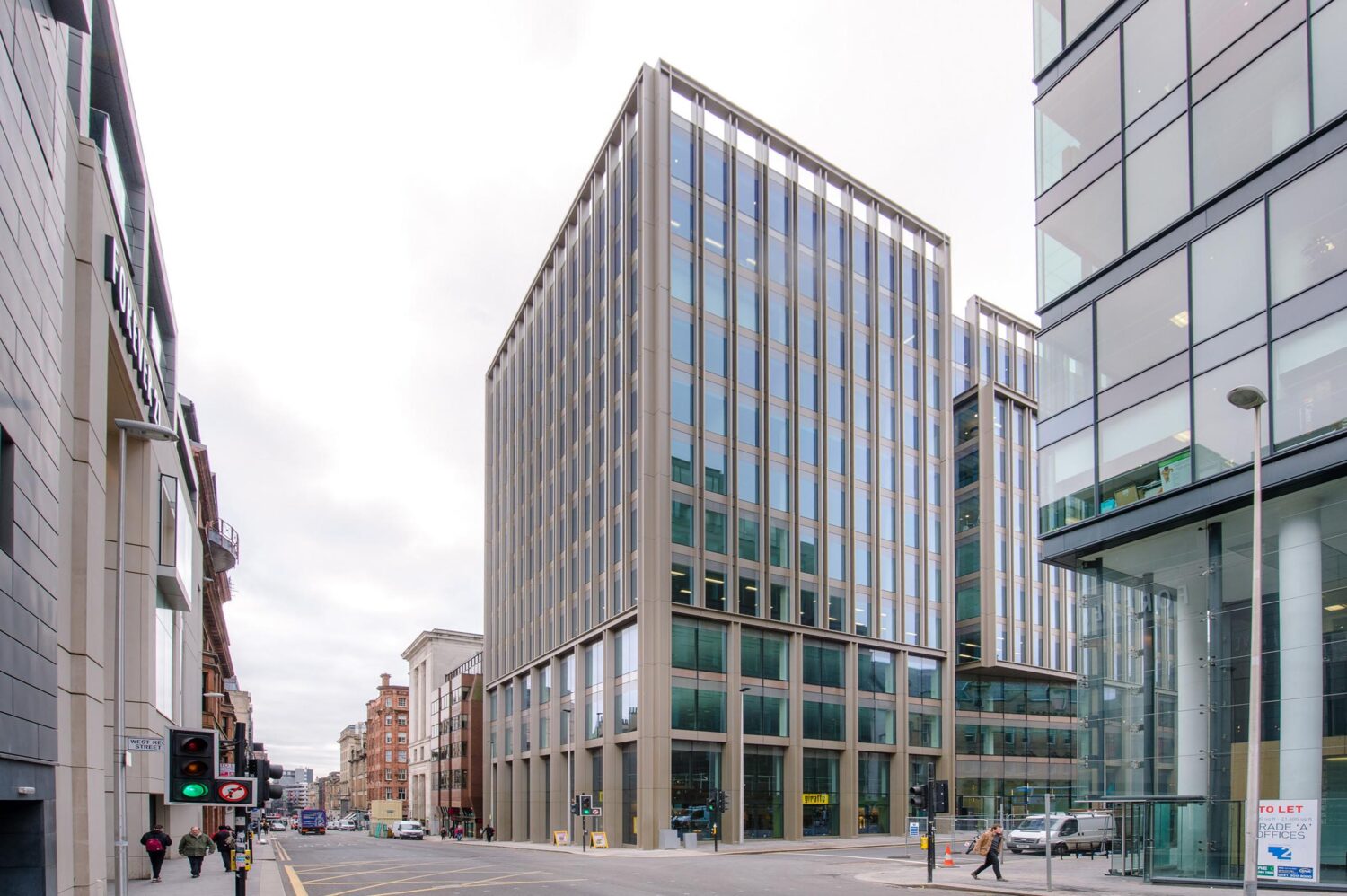 Our Role/ Scope
Pre-contract – Our role involved arranging surveys of the existing building, procuring the demolition of the existing building including the removal of asbestos, preparing 2 stage tender documents and negotiating the contract amount with the contractor.
Post-contract – Weekly site visits to review progress with the contractor, chairing monthly progress meetings, issuing monthly reports, chairing fortnightly conference calls with the client, managing a change control process including agreeing costs with the contractor prior to issuing any variations to the contract and certifying payments to the contractor.
Technical Capacity
The project team comprised of the following:
Project Director / Lead Project Manager
Assistant Project Manager
Lead Quantity Surveyor
Assistant Quantity Surveyor
CDMC (2007 Regulations)
Benefits To Client
Close liaison with tenants.
Fortnightly conference calls with the management of Clearbell to discuss the progress of the contractor and any ongoing issues.
Change control process controlled by Doig+Smith including a number of tenant changes to the base build works.
Multi-discipline commission utilising streamlined and consistent processes.
// Removed Expetise tags - KG 13/09/2016 ?>