Directors, Associates and staff attended as finalists at the Business Insider Awards ceremony at Glasgow Central Hotel last night. We are very proud to be able to announce that we won our Category – Best Work Environment!
It was a glittering event and very well supported with organisations attending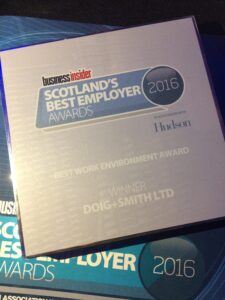 from all over Scotland. Well done to those who were short-listed and special congratulations to all of the winners.
The win is mentioned on the given website link: http://www.scotlandsbestemployers.co.uk/winners-2016.html