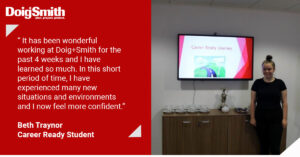 We were delighted to have Beth Traynor join us this summer for a 4 week Career Ready Placement.
During her time at Doig+Smith, Beth worked across all departments and got involved in a breadth of tasks. Over the course of 4 weeks she learned about the importance of cal checks, used our CostX estimating software, reviewed expenditure reports and provided administrative support. She also ventured out of the office on a number of occasions, with visits to our Edinburgh Office and to Glasgow Airport.
In her final week Beth gave a presentation to the team, and while she was feeling pretty nervous about this, we are pleased to say she conquered her fears and absolutely smashed it! Go Beth!
We wish Beth all the best in her future career!
If you are interested in working for Doig+Smith, check out the recruitment pages of our website and submit your application today!